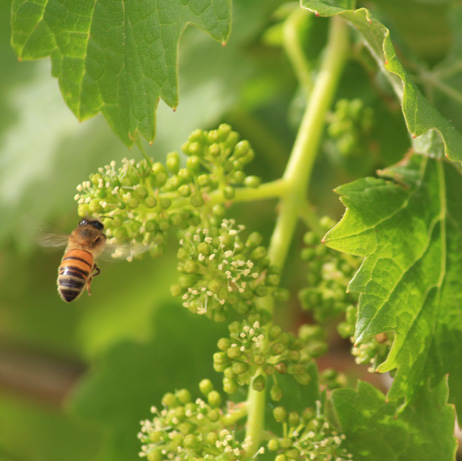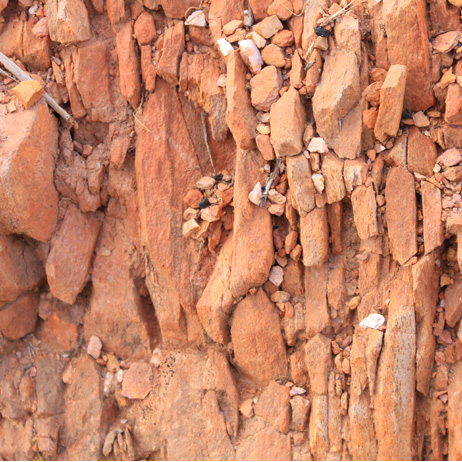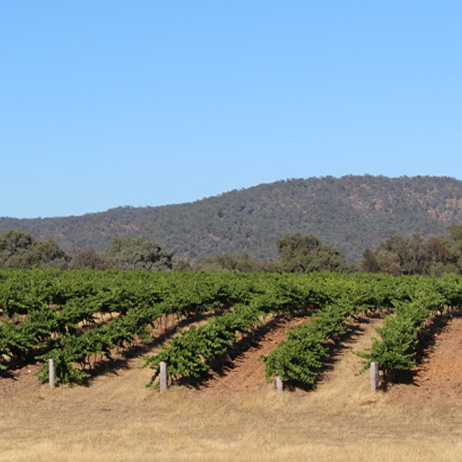 CLIMATE The Pyrenees Range is the first land feature to obstruct the prevailing West wind, carrying moisture from the Indian Ocean across the Great Australian Bight, which is then precipitated. Rainfall is about 600mm per year falling predominantly in winter and spring. The altitude moderates the climate so that we have minimal spring frosts and warm summer days with cool nights. The remarkable clearness of the air allows for wonderful light intensity. Having low yielding vines, this adds to the complexity of flavour in the resulting wine. The dry, clean atmosphere and light night breezes in Summer ensure no mould or fungus disease problems.
SOILS AND PERMACULTURE The vineyards are situated atop a mountain ridge landform consisting of convex and linear slopes. Situated at 420 metres of altitude, on latitude 36 degrees 47" south and laid over Cambrian Sandstone, the soils are variable complex stony uniform loam and stony red duplex. In other words, shallow gravelly soil over rich red friable clay with some loose ironstone and quartz on and near the surface. Whilst the soil is well drained, the red clay soaks up moisture from winter and spring rains so that the vines can use it during the drier Autumn. Relying on natural rainfall only the vines had to delve their own roots deeply to acquire moisture and nutrients, which provide a rich complex of flavours in the berry. The vines are organically grown with minimal intervention and so maintain their natural balance with the environment. We use cover crops, native grasses and cultivation to maintain the inter-row. Hand pruning and hand harvesting (using only experienced local staff), within 800 metres of the winery itself ensure outstanding grape quality and freshness.
VINEYARDS Sally's Paddock South facing towards the mountains, this undulating slope makes the most of the East and West sunlight on different aspects as well the full sun in midsummer. Natural Red Ironbark, Red Gum and Red Stringy-bark eucalypts on the West and South sides protect the vines from strong winds during flowering and grape set. Sally's Hill Comprising:
The North Paddock: Pinot Noir, Malbec, Cabernet Sauvignon and Cabernet Franc on a gently sloping North face of Sally's Hill.
Rocky Ridge: An uncomfortably steep and rocky ridge atop Sally's Hill, planted to Pinot Noir in 2000.
The Westerner: A high West-facing vineyard of self-managing Cabernet Sauvignon and Merlot vines. Easy to prune, its capacity to balance foliage, crop and ripening without much care is remarkable.